On Saturday night we had my mom and her boyfriend over for dinner. Stephen and I created a delicious pot of fondue and feel that we must share it with you! It was so good we finished it all....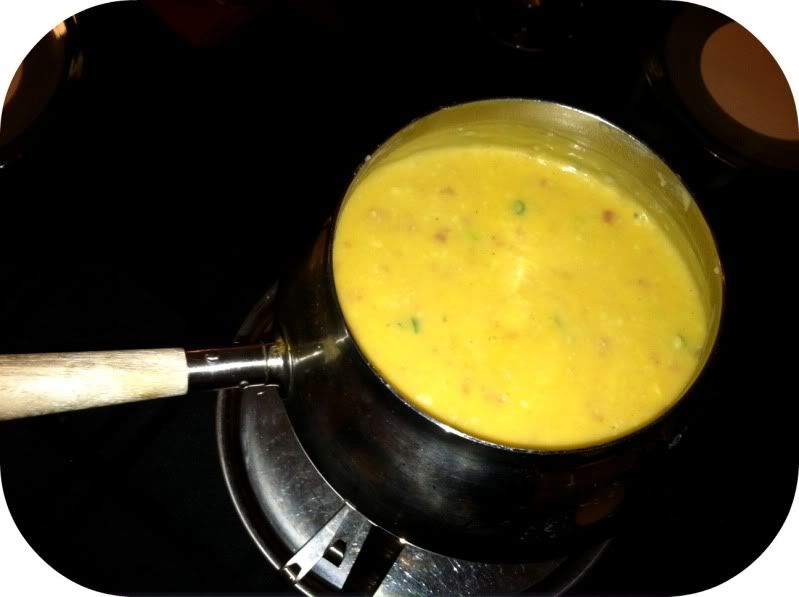 1 cup Fontina cheese, grated
1 cup Gruyere cheese, grated
1/2 cup medium cheddar cheese, grated
1/4 cup blue cheese, crumbled
1 teaspoon dry mustard powder
2 tablespoons scallions, chopped
Salt and pepper, to taste
1.
Grate cheeses and mix with flour, mustard, and cayenne to coat cheese.
2.
Heat olive oil in a 3-quart saucepot. Add pancetta to oil and sauté for one minute.
3.
Add garlic and shallots to the pot and sweat until fragrant.
4.
Deglaze pan with white wine and sherry, heat to a simmer.
5.
Add 1/3 of the cheese mixture at a time to pot.
6.
Stir well and when ready add scallions, salt, and pepper.
7.
Transfer to fondue pot and enjoy!
Apples (we used Granny Smith because the acid cuts through the richness of the cheese)
Broccoli (steamed al dente)