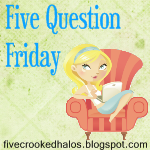 Here are this week's questions and my answers to them:
1. W
hat's the best Christmas present you've ever received?
Three years ago, my mom surprised my oldest brother and I with a cruise to Mexico for Christmas. I'd have to say that was the best present yet...:) I was just about to turn 21 and my brother, Nick, was graduating from high school that year. I'll never forget that spring break trip to Mazatlan, Cabo, and Peurto Vallarta!
2.
Worst/Funniest White Elephant gift ever received?
Hmmm..I have to think about this one. It has been many years since I have received a completely awkward or odd White Elephant Gift. I participated in an exchange my freshman year of college and received a lava lamp- pretty cool gift! However, I know I received some funny gifts doing this as a kid, but I just can't remember what they were.
3.
Is your Christmas tree plain and simple (white lights and matching ornaments) or is it wild and crazy (colored lights with lots of ornaments collected over the years)?
Our Christmas tree is a "memory tree". My MIL started that term years ago with my husbands Christmas trees growing up because they were full of random ornaments that brought back special memories to them each year. So, our wild and crazy tree has colored lights, random ornaments we have received throughout the years, candy canes, snowflakes that complete our "memory tree".
4. "How" do you iron your clothes? The old fashioned iron/ironing board way, the shower, back in the dryer, etc.
We do own an ironing board and an iron, but I have to admit that I have never used either of them. If something is wrinkled I just toss it into the dryer. Although I am funny about drying my own clothes- most of them get hung up to dry. This started back when I was young and became frustrated when my mom accidentally would shrink my clothes. My solution to this problem was to hang everything up and I haven't stopped since. I do dry my socks and sweats and a few other things, but that is it. Almost all of hubby's clothes go straight into the dryer though. He doesn't care and plus it's easier that way. :)
5. How much baking do you do for Christmas and what are your "must make" items? (I'm looking for recipes here, peeps...)
I love to bake, especially at this time of the year. Some of my holiday favorites are Gingerbread cookies, toffee, cinnamon rolls, and Muddy Buddies. So far I've only made the Gingerbread Cookies this year, though. But that is about to change!
Today has been a great day so far. I've loaded up on coffee, got my Christmas cards in the mail, and am excited for the weekend. Hubby is now off for two weeks from school. I am so jealous!! Thank you to my new followers who have left sweet, encouraging comments on here. You make me smile!
Happy Friday, everyone! Only 9 more days until Christmas!