This weekend we headed 80 miles south to visit my in-laws and catch up with everyone. We stayed Saturday night at Stephen's grandparents house, but we also visited with his dad and step-mom and his mom and step-dad while in town. His grandpa's birthday is on Wednesday this week so we went out for lunch on Saturday to celebrate. I should have taken some pictures..silly me.
This morning (Sunday) we woke up to homemade biscuits and gravy (I won't eat it anywhere else..his grandparents make the best!) before the Stephen and his dad set up the Christmas lights on his grandparent's house. His grandma and I were keeping warm inside and drinking our coffee.I mentioned that our new tv was arriving tomorrow and that we still didn't have a stand for it. Hubby's grandma is the queen of good deals and fixing up furniture. She has a space in a local antique shop and purchases many items, fixes them up, and resells them. So when I mention that we need a stand she instantly replies "well, let's go look at Goodwill" and before I know it we are in the car headed there.
At first I did not see anything that I liked or that I thought would be sufficient. But right before we were about to leave we spotted a few more pieces of furniture. We found a desk and discussed the potential it had with a little spray paint and the addition of a shelf (for the cable box and such). Plus, it was only $9.99! I was still slightly skeptical as we headed back to her place to show hubby. I wasn't sure if he was going to like it. But surprisingly, he knew that with a little work it would be perfect.
This is what we started with:
Just a plain old brown desk without drawers or shelving. We decided to paint it black and also add a shelf and a hole for cords to go through the back. Oh the transformation that occurred!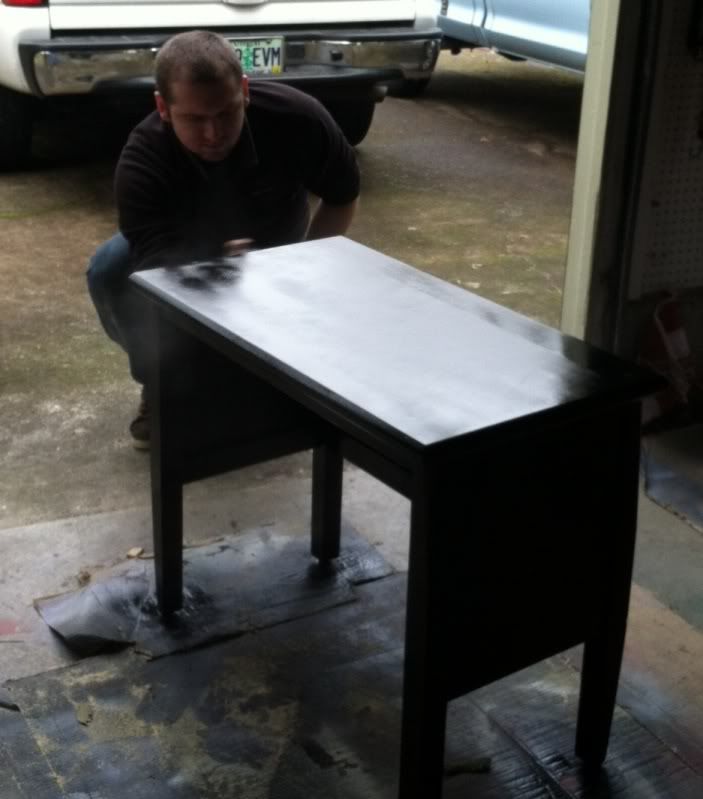 Stephen, his dad, and his grandpa made a shelf and created this beautiful t.v. stand for us.
I am SO excited about it! I just love it. I can't wait for our t.v. to arrive tomorrow!