We had some of our wonderful friends, Kevin and Carly, over for dinner on Monday. We have so much fun with them. We laugh, tell stories, drink wine, watch How I Met Your Mother and have the men prepare our meals. We switch off between our places each time which is just perfect. It was our turn to have them over and Stephen made Risotto. It was to-die-for. Creamy, delicious, filling, amazing. I just love being married to a chef!
I am consuming lots of Airborne and vitamins. One of the girls I watch has been sick with the stomach flu and a high fever. I can't afford to get sick.
The hubby received his number one choice for his culinary school externship! He interviewed on Monday and they loved him. He will be doing butchery and charcuterie- two things he is very interested in. I am so proud of him.
We are soaking in everything about the holiday season that is upon us. Our home is decked with lights, are beautiful tree, stockings, and cute decorations I have started to collect. One thing I love the most though is having the ornaments I have collected throughout my life on our tree. My grandma has given me a Hallmark angel ornament each year of my life. I didn't grow to appreciate these until a few years ago when I realized I would have a these special ornaments at my own home when I got married. Last weekend, I picked them up from my mom and had so much fun going through them and hanging them on our tree. There are still a few that I am missing which are somewhere in our storage unit. But they are so special to me. What is neat is that Stephen's grandparents also gave him an ornament each year- his are not all one type of ornament though. We will be picking his up from his mama this weekend and adding them to our tree and collection, too!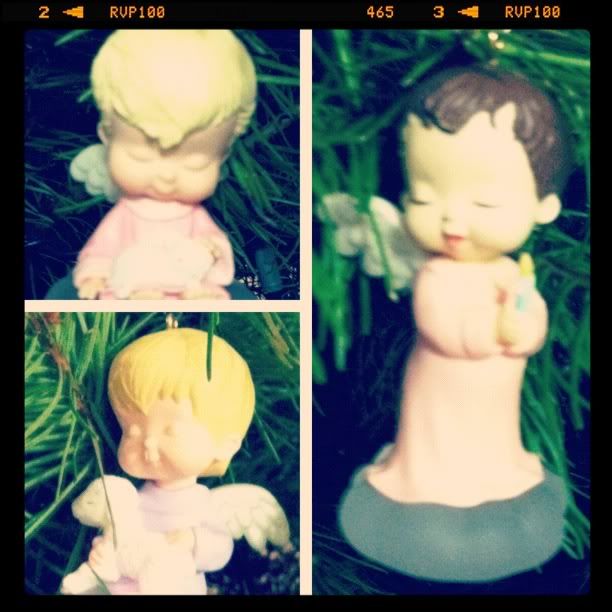 These are just three angels out of my entire collection. Someday I will probably have to have my own, smaller tree just to hold all my angels so we have room for our future children's ornaments...
I am constantly reminding myself to be grateful for the job I have. Some days I get sad that I am not in the classroom teaching like I would love to be, but I know that I should be happy just to have a job right now.