I love deals and saving money is a great feeling. One way that I have started to save money in my home is by making my own laundry detergent. I know you're thinking-
How do you do that? That can't possibly clean well at all!
But it does, and it is easy. You can do it yourself too!
Pin It
What you will need
:
~ 2 cups of
Arm & Hammer
Super Washing Soda (This is different then baking soda; you can find it in the laundry aisle)
~ 2 cups of
20 Mule Team
Borax
~
1 bar of grated Fels Naptha laundry soap (You could also use Zote laundry soap or other soaps such as Ivory, Pure & Natural, etc)
I purchased these items at my local Fred Meyers for under $10 total. The great thing about this is that you will have what you need on hand when you need to make more detergent because it is very concentrated and takes very little to make a batch!
Combine all ingredients in mixing bowl and stir well.
That's it- you did it! The finished product seems to look like it has shredded cheese in it but the yellow is just the color of the laundry soap. If you desire you can put the soap in the food processor first to powder it, but I find it works great like this.
It only takes
one tablespoon
of soap per regular size load of laundry. For extra large loads you can
use
two tablespoons.
I use an old teaspoon and just use three level scoops.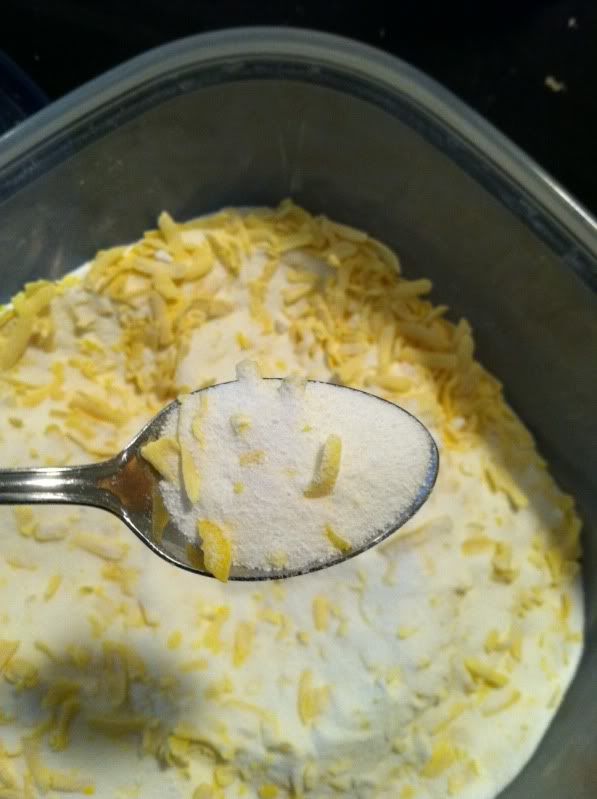 The cost per load of this homemade detergent is about $
.035 cents
compared to store bought detergent which ranges from $.50- $.75 cents per load.
Storage:
I use an extra large ziploc storage container that I had laying around. When I get low on detergent, I make more and add it to the container!
I have found that since this
is
so concentrated it cleans my clothes very well. It does not have added scent like other detergents, so you can try adding different essential oils, if you would like.
*
One thing to note
: consumers like to see suds in their detergent because they feel that suds are necessary for clean clothes. If your laundry is not sudsy,
do not panic!
This detergent does not include the other agents that are in store bought detergent to create suds, but the water gets dirty and the stains are gone which proves it is working.
Enjoy!
______________________________
This post was featured 1/31 at
A Bowl Full of Lemons!