One of my favorite ways to prepare meals is with our crock pot. Yes, even though I am married to a chef I still do some of the cooking. It is so convenient to be able to throw in a bunch of ingredients and let it simmer for hours until dinner time. What's in mine right now? My delicious homemade chili. Although I've made it many times, my husband always tells me how much he loves it as he goes back for seconds. It is easy, and it is good.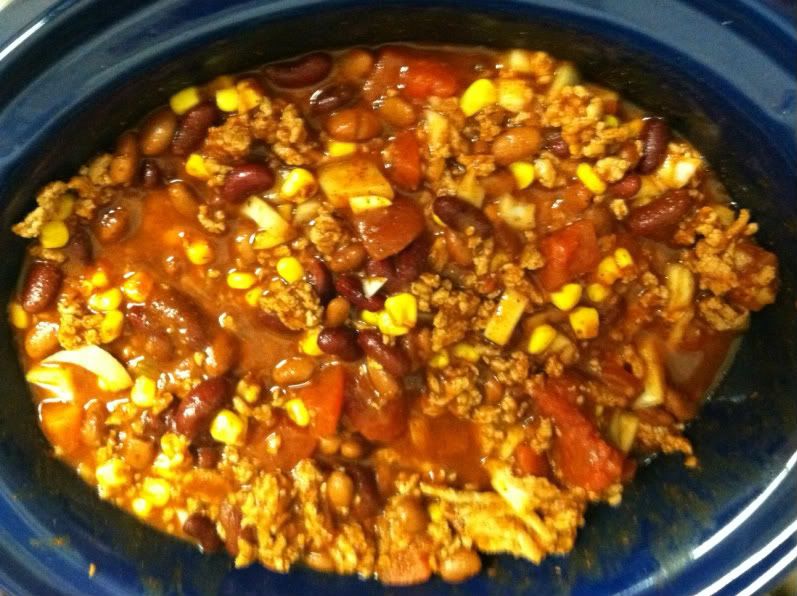 Ingredients:
1 lb of lean ground turkey (or ground beef)
1 can diced tomatoes
1 can stewed tomatoes
1 can chili beans
1 can kidney beans
1 15 oz can tomato sauce
2 cups of corn (I just throw in frozen corn)
1 packet of chili seasoning mix (if I am too lazy to make my own..)
1 medium onion, diced
Preparation:
Fully cook ground turkey in skillet on medium heat. While meat is cooking, open and empty these cans into your crock pot: chili beans (with sauce- I do not rinse), tomato sauce, diced tomatoes, stewed tomatoes. Pour can of kidney beans into a colander, rinse with water, dry, and add to crock pot. Add corn, onion, and seasoning mix. Stir ingredients in crock pot. Add cooked meat to crock pot and stir all ingredients.
Cook for 6-8 hours on low heat or 4 hours on high heat.
Sprinkle some Parmesan cheese on top and serve with some corn bread. Enjoy!