This is one of my favorite meals. We make it a couple times each month and always make two pies at a time so that we have plenty of leftovers (and of course hubby can eat over half of one himself the first night for dinner...).
Pie Crust Recipe: (*makes two 9 inch pie crusts)
2 cups white flour
1/4 tsp salt
6 oz butter, grated with cheese grater
1 egg
2-3 oz ice water
Sift flour. Mix in butter with flour until the butter is coated. Blend together egg and water then slowly add to dry ingredients. Add more water if needed, but only 1 tbsp at a time. Stop mixing when dough forms. Cover and chill in refrigerator for at least an hour before use.
After cooling, roll out dough and place half in each 9-inch pie dish. Before baking, place a piece of wax paper on top of each pie crust and place about 4 cups (1 pound) of dried beans on top of each pie (this is used as a weight; beans are still good after using them for this). Bake for 15-20 until golden brown at 350 degrees. Remove beans and follow Quiche recipe (below).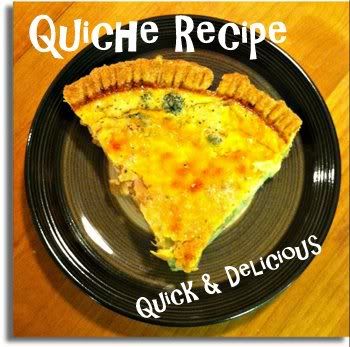 Quiche Recipe: (*makes two pies)
2 onions julienne, carmelized
2 cup of diced, cooked bacon
1 1/2 cups chopped, steamed broccoli
1 cup pepper jack cheese, grated
1 cup cheddar cheese, grated
2 cans (12-fluid oz) evaporated milk
6 large eggs
1/2 cups flour
1/2 tsp salt
1/4 tsp pepper
Preheat oven to 350 degrees
Sprinkle 1/2 cup of cheddar and 1/2 of pepper jack cheese into each pie crust. Add cooked bacon and carmelized onions.
In a large mixing bowl, whisk together evaporated milk, eggs, flour, salt, and pepper. Pour mixture into each pie crust.
Bake for 45 to 50 minutes or until knife comes out clean when inserted near center. Cool for 10 minutes before serving.
Enjoy!