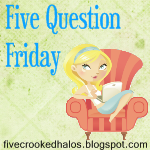 After a short break for the holidays, 5 question Friday is back! This is a fun link up and I look forward to seeing what the questions are going to be each week. Hop on over to
Mama M's
blog to find out more & join in .
1
. W
hat is the weather like where you are and do you like it?
I live in Oregon where, yes, it really does rain about 10 out of the 12 months of the year. But, I don't really mind it much. We have been extra blessed lately with dry weather. Today the sunshine was out and if I had planned ahead I would have taken the kids I nanny for to the zoo for the day. It is chilly though, and I don't like the cold much.
2.
When you're sick what do you seek comfort from?
I am a baby when I'm sick. I turn to my husband for comfort. I haven't been really sick (stomach flu sick...knock on wood) but if I was I could see myself turning to/calling my parents for comfort too.
3. What do you need to do before the end of the month?
I can't really think of anything I need to do besides pay bills and show up to work when I am supposed to. Yep, that's about it. I do want to start working on our wedding album soon though.
4. Have you ever served on a jury?
Negative. I was summoned for jury duty right when I turned 18, but was sent home when they were weeding through people to choose who would participate in the jury. They probably thought I was too young, and I was.
5. If you could be any animal, what would you be and why?
A dolphin! Because they are adorable and very smart. When we were on our honeymoon we stayed two nights of our trip at the Hilton on the big island. We spent quite awhile just sitting and watching the dolphins- it was so fun. One of them was pregnant and due to give birth at any time. Unfortunately, we weren't there to see the baby dolphin. They sure do fascinate me.
Source
Thanks for stopping by! Be sure to leave a comment and let me know you were here. Happy Friday!