1. What's the the last thing you bought for yourself?
The last thing I bought myself was headlights for my car (if I remember right). Coincidentally, both my car and hubbies car needed new headlights at the same time. So we had a cute little date at the auto part store. Those stinkers are expensive...
2. What is your favorite meal on a cold winter day?
3. Have you started looking at swimsuits for this year, and do you buy a new one every year?
This is the weird thing, I have probably 20+ swimsuits. I love swimsuits. I can't ever get enough. But I always feel self conscious in them! Anyways, I haven't started looking yet this year (its January...) but I am sure I will add a new one to my collection at some point in 2012.
4. If you could be any candy what would you be and why?
This is a toughy for me. I love non-chocolate candy. Although I am developing a strong love for Butterfingers. I would probably be a Starburst because they are fruity and delicious. And because I can't think of anything more creative right now.
5. What are you most passionate about?
Spending time with those I love. I soak up time with family and friends because you never know when it will be your last chance. Also, I am passionate about the education of young children and cannot wait to (hopefully soon!) have my own classroom where I can have an impact on the lives of young children.
Oh and for the record, I beat Stephen in an intense game of Phase 10 last night.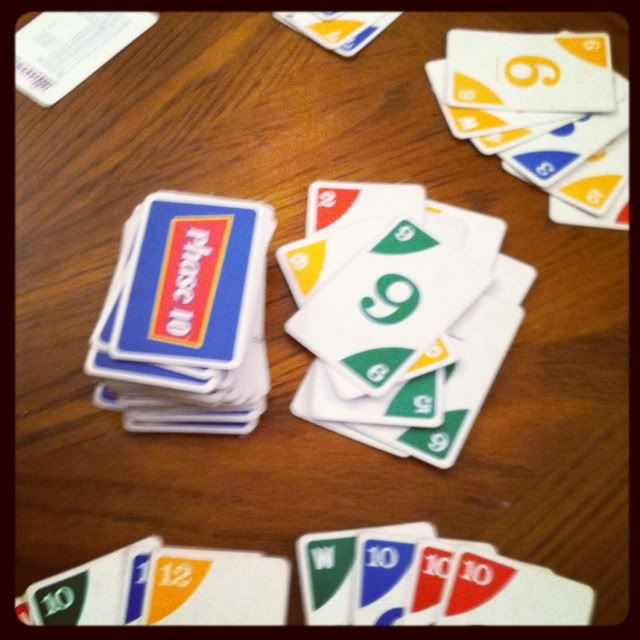 Have a great weekend! Be sure to leave a comment or become a follower so I can check out your blog! Also, leave me the link to your 5 Question Friday post so I can see your answers, too!