We had a pretty easy time choosing our wedding location. I knew that I wanted an outside, summer ceremony and we knew the general location (about halfway between the cities we both grew up in) that we wanted to have our wedding. One of the things we love to do is wine taste because we love wine. So when we began our search for a venue we started by looking at wineries and vineyards in the area.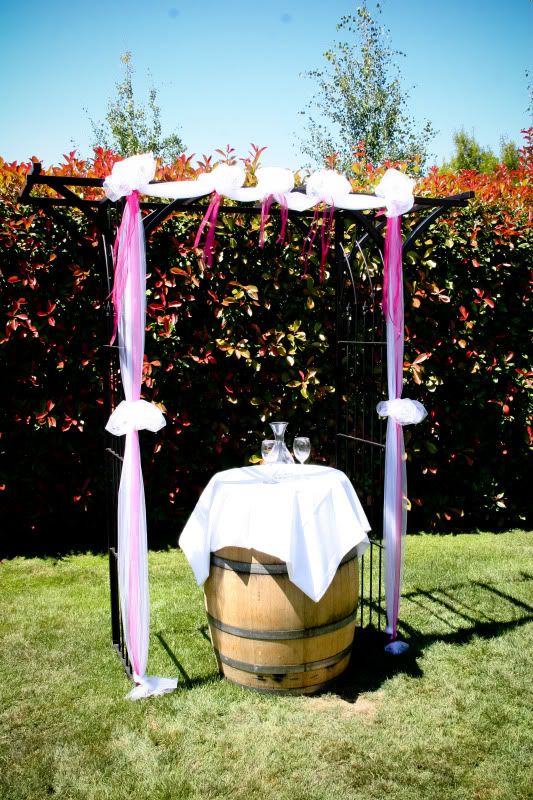 Even with a ten month engagement, we knew from the beginning of our venue search that many summer dates would already be reserved. This is the reason we started our venue search the weekend Stephen proposed.
The first place we checked out was Eola Hills Winery. We instantly fell in love with the beautiful outdoor garden (ceremony) and the rustic look inside from the wine barrels inside (which would be perfect for the reception). We were planning to continue checking out other wineries for possible venues, but we loved this venue and asked them what summer dates they still had available. They had three dates left for Saturday weddings in 2011. There was one date in June , July 30, and August 27. I had already decided months before (I'm a planner..) that I wanted my wedding to be either July 30 or August 6. I loved those dates, and July 30 also happened to be my grandmother's birthday. So we paid our deposit (knowing that if we did decide on another location we would only lose $150) and looked at a couple other venues.
We looked at other wineries that required you to spend an outrageous amount on food (by their caterer) and had a (very high) alcohol
minimum
. The venue was beautiful, but there was know way that these requirements fit our
budget.
In the end, we were more than happy with our decision to have our wedding at Eola Hills. Here are the reasons we chose this venue and what made our decision so simple:
1. We were able to bring in an outside caterer and were not required to use their in-house catering.
2. They were MORE than helpful. I cannot explain how many "extra" things they did not charge us for and how beyond willing to help they were.
3. We saved money by having the ceremony and reception at the same place.
4. They did not have a required alcohol purchase minimum (which many places do).
5. The venue had space for the number of guests we were expecting (about 200).
These are some of the things I recommend checking on when choosing a wedding venue. If you already have a caterer in mind, or know someone who wants to do your wedding food, then be sure to find a venue that is flexible and allows you the option to use a caterer other than their own. Also, be sure to reserve a venue
as soon as possible
after getting engaged because dates fill up fast!
This post is part of a series on the experience I had planning our wedding. You can read the other posts I have written so far here.