One of the biggest (and most important) steps we took when planning our wedding was setting a budget.
We knew that we did not want our wedding to cause us to start our marriage off in debt. Also, we felt that many couples spend outrageous amounts of money on their wedding days, and we decided it just wasn't possible or sensible for us. What we spent was substantial, but much, much less than what is statistically shown for wedding costs these days.
The first step to setting a realistic budget, that we would be able to work with and stick to, was figuring out how much our families were willing and able to contribute to our big day, and what we were going to have to come up with ourselves. Both of our parents are divorced, some with new families, and at first we weren't sure who would be able to help us with what.
One of the most important resources for me during the wedding planning process was this book: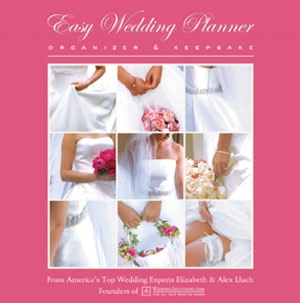 You can purchase or find more information about this book
here
. It was seriously a life saver and broke down each part of the wedding with helpful descriptions. It also has many beautiful pictures for ideas.
But one of the best things about this book was the budget section. It contained multiple pages for the budget with columns for the budgeted dollar amounts for each category/item and then an actual category for the was spent. It was great because I could easily keep track of how much I spent, could spend, or saved by spending less than what was budgeted (this money was often put into a different category where more funds were needed).
There are many hidden costs with wedding planning. Just my wedding dress alone required a deposit, full payment, a few different alterations (spendy!!), cleaning, and more. I highly suggest that you leave room in your budget for hidden expenses. When writing our budget, I did not spend our total amount throughout all of the areas or categories listed. I actually tried to keep costs down to as little as possible knowing that expenses would arise (and they did).
Are you looking for a good place to start with your budget? I suggest buying the Easy Wedding Planner book. You may also find it easy to take a blank sheet of paper and write down all the categories/expenses that you can think of in your own list. I did this many, many times.
While your budgeting, think of who you know that can hook you up and save you some money. We our graphic design friend make our save the dates and invites. My uncle is a caterer so, naturally, he did the food. My sisters best friend's dad owns a huge bridal store (I was blessed with a discount). My brother's friend goes to school for video production so we hired him to videotape. It can be a bit nerve wracking to hire people that you know. Honestly, I was nervous about it too. But it ended up working out great for us (no bridges burned) and saved us quite a bit of money.
Enjoy the process. Even the "yucky" stuff like budgeting. You will look back and miss it someday, I promise!