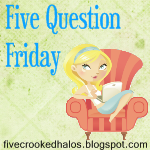 I'm participating in Five Question Friday again this week. Join in with me by answering these questions and linking up here to join in the fun.
1
.
Where do you hide the reeeally good snacks?
Well, since we don't have kids yet, I don't really have a need to "hide" the treats. However, at Halloween time my husband and I each picked out a bag of fun sized candy bars since we couldn't agree on just one type of candy. He finished his bag pretty quickly...and mine? I still have a few pieces left sitting in their bag on the left inside the t.v. hutch in our room. Random place, I know. But that's where they ended up.
2. D
o u keep your vehicle clean or am I the only one who has things falling out of their van?
When I bought my new-to-me car two years ago (this is my second car since I turned 16) I wouldn't even leave a sweatshirt in it because I wanted it to stay clean and perfect. But now, there is quite a bit of crap in it. Okay it is not terrible but does include: a few jackets, rain boots for the pumpkin patch trip in October, and some garbage. It really could use a good cleaning, inside and out.
3. H
ave you ever been to Vegas?
Yessssss! Hubby and I went to Vegas twice when we were dating (2009 and again in 2010). Vegas was our first trip together so it holds a special place in my heart!
Our first time there we stayed at New York New York and the second at The Flamingo. But times had during both trips!
4.
Warm room light blankets or cold room warm snuggly blanket?
Warm room and warm blankets. I get cold! Actually we have figured out the best situation now. Our room is at 60 degrees during the night (heat is expensive...) and we use two quilts. Keeps us both cozy!
5. What is the worst airplane/flying experience you've ever had?
During my 8th grade year, I was blessed to be able to go to Washington D.C. with my class. I did a whole lot of babysitting and paid for the trip (practically) by myself. It was such a great experience, but now that I am older I wish I could go again. I feel like I would appreciate things more. Also, the year we went was spring of 2002. So D.C. was still quite shaken up from 9-11 at the time and security was horrible to get through.
But the worst airplane experience happened on this flight. We had some parent chaperones come with us on the trip, and on our flight home one of the dads started feeling really sick. And he started puking. All over the inside of the plane and the wall to the left of him. I thought I was going to puke myself. (I guess now is a good time to mention I have an irrational fear of vomiting. It's true). The entire plane smelled like vomit, and I was so weak and nauseous the rest of the flight.